Alaska is full of beautiful scenery that simply cannot be out done! With tall mountains and rushing rivers, Alaska has it all! During Winter, as the snow builds up on the roads and temperature drops you can find beauty wherever you are. Like the snowflakes that fall to ground, Alaska is a unique experience, but here are the 10 reasons to visit The Last Frontier.
1. King Mountain
There are many mountains in Alaska, and I mean A LOT! But, every once in awhile you'll find one sight that stands out past all the rest. King Mountain is located on the Glenn Highway on your way to the little town of Glennallen. Along side the mountain is the Matanuska River. You'll never be bored while travelling in Alaska with sights like these!
2. The City of Seward
This little town may not look like much but looks can be deceiving! Seward is the town I grew up in and it is the perfect vacation spot for those who love hiking, fishing, and a great view! Seward is the home of Mt. Marathon, every year on the 4th of July strong men and women make the trek up this mountain. This race is not for the faint of heart, the race is much harder than it looks. Luckily, there are easier trails for those of us who are less seasoned in mountain climbing.
3. Tonsina
One place I always recommend to visitors is Tonsina. Once you reach this bridge you know you're almost there! You can reach this place with just a hike from the previous place on this list, Seward, AK. You hike through the woods for just a bit, and you'll reach the bridge above. The river below is a pretty enough sight and many people have even tried panning for gold here! A little while after the bridge you'll reach Tonsina, a beautiful beach with an amazing view!
4. Homer, AK
Homer, AK is a wonderful little town full of friendly people and plenty of activities! The stretch of land shown in the picture is known as The Homer Spit. The Spit is only open during the summer when the year is at its busiest. I have never visited a place in Alaska with better food than Homer. Two Sisters bakery is a must when visiting this little town, great coffee and great food, and on your way out you can pick up reasonably priced fresh baked bread. Don't miss this great town on your next visit!
5. Mount Denali/Mount McKinley
Mount Denali, also known as Mount McKinley, is located in the interior region of Alaska and is known for being the highest Mountain Peak in North America! This mount is 20,310 feet above sea level! The Koyukon people who inhabit the area around the mountain have referred to the peak as "Denali" . In 1896, a gold prospector named it "Mount McKinley" in support of then-presidential candidate William McKinley; that name was the official name recognized by the United States government from 1917 until 2015.
6. Exit Glacier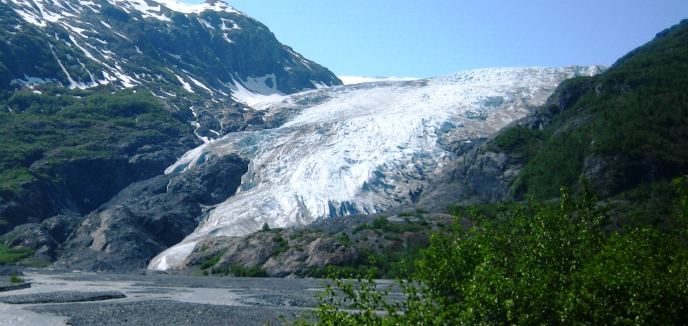 Also located just outside Seward, Exit Glacier is a sight to see. A short hike through their mostly paved trail will bring you right up close to the glacier, I always show this place to any Alaska newcomer! Even Former President Barack Obama himself has made the journey! There are two ways to see the glacier, you can take the road up and see it from above or you can walk down towards the bottom and see the end of the glacier. As a child I was able to go and even touch the tip of the glacier, although, you cannot touch the glacier anymore is it still worth the trip!
7. Chena Hot Springs
This natural hot springs located just outside of Fairbanks, AK may be a long drive away but is definitely worth the wait! Your choice between an indoor and outdoor experience! I personally would recommend the outdoor, with the cool outside air and the hot water from the springs leaves you refreshed and ready for more Alaskan adventures!
8. Glennallen
This little town is very spread out but there is lots to do here! If you're looking to do some fishing, Glennallen is the one great place to be! Copper River is full Red Salmon, more commonly referred to as Copper River Reds. Visit this town during June or July and catch yourself some fresh Alaskan Salmon!
9. Kenai
Kenai, AK is another amazing location for fishing! But not just regular fishing but dip netting! I used to go dip netting every year in July. The ultimate catch that everyone is gunning for is the King Salmon! One year, someone caught a King that was about the size of a small child! Why not try your luck? Even if you don't catch a King you are still likely to take home a good haul!
10.Yukon River
The Yukon River flows between Canada and Alaska and is definitely a sight to behold! The Lewes River is the former name of the upper course of the Yukon, from Marsh Lake to the confluence of the Pelly River at Fort Selkirk. The Yukon is one of the longest Salmon runs in the world!
So whether it is a mighty river, a giant salmon, or a fantastic view, Alaska is and always will be a unique and beautiful place.